74% of Indian online shoppers prefer paying by card: Visa study
03/27/2015
Convenience, price and enjoyment are the top three reasons for shopping online
Online shopping saw significant growth last year with 92 per cent of Indians having shopped online, making an average of 25 purchases, and using payment cards as their preferred mode of payment, according to the Visa eCommerce Consumer Monitor 2014 research [1].
Seventy four per cent of respondents cited using payment cards (credit, debit and prepaid cards) to pay for their online purchases, while only 51 per cent used cash on delivery, followed by 47 per cent who used direct debit. The use of payment cards is a noteworthy shift from cash, which has historically been the preferred medium for payment.
Mr. T. R. Ramachandran, Group Country Manager India and South Asia, Visa said: "eCommerce growth is thriving in India with Visa spend data showing 33 per cent growth in eCommerce payment volume in 2014. We are also seeing 49 per cent growth in the number of eCommerce transactions, which is consistent with our research findings, showing more people prefer to use their payment cards to make online purchases."
The top three reasons provided for shopping online are convenience (82 per cent), price (78 per cent), and enjoyment (76 per cent). The study shows that Indians spend five hours online each day, slightly greater than the daily average of four and a half hours across Asia Pacific.
"Indians are also turning to their Visa Debit cards to pay for online purchases with 59 per cent growth in Visa Debit eCommerce payment volume and 73 per cent growth in transactions. Through our Pay with Confidence marketing campaign we are increasing awareness of eCommerce and expanding the reach to Visa cardholders in Tier 2 and 3 cities, who are finding it extremely convenient to pay for their purchases using their debit, credit or prepaid cards," added Mr. T. R. Ramachandran.
The top three categories for online purchases in India, emerging from the survey were – fashion (51 per cent), online bill payments (50 per cent) and movie tickets (47 percent). Personal electronics and computer equipment are the other leading online shopping categories.
The study further highlights how online shopping habits vary depending on the device used. Indians are among the most active online shoppers using their mobile phones with 66 per cent browsing shopping websites and 46 per cent actually making purchases.
Desktops and laptops continue to be the most preferred option for online shopping with a 92 per cent to 87 per cent conversion rate between browsing and purchasing online, respectively.
Visa has been focused on promoting eCommerce in the country, and providing consumers with the confidence to make purchases online with their Visa cards. For more information on Visa's Pay with Confidence campaign please click here.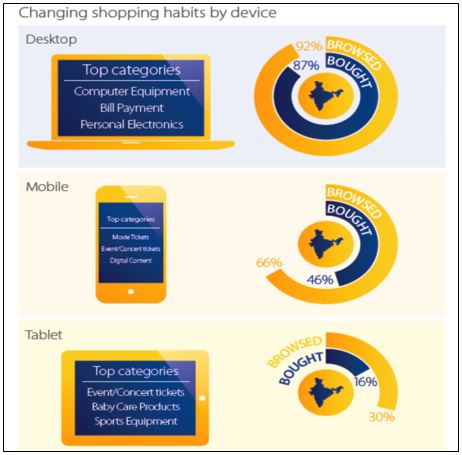 ---
| | |
| --- | --- |
| [1] | The Visa eCommerce Consumer Monitor 2014 was an online survey designed and conducted from July to August 2014 by Nielsen Research on behalf of Visa. The poll interviewed 806 internet users who access the internet at least once per week and are aged between 18 and 55 years old. |
About Visa Inc.
Visa Inc. (NYSE: V) is a global payments technology company that connects consumers, businesses, financial institutions, and governments in more than 200 countries and territories to fast, secure and reliable electronic payments. We operate one of the world's most advanced processing networks - VisaNet - that is capable of handling more than 56,000 transaction messages a second, with fraud protection for consumers and assured payment for merchants. Visa is not a bank and does not issue cards, extend credit or set rates and fees for consumers. Visa's innovations, however, enable its financial institution customers to offer consumers more choices: pay now with debit, pay ahead of time with prepaid or pay later with credit products. For more information, please visit www.visa.co.in