Visa launches brand campaign 'Reimagine India' in sync with the pulse of the New Age Digital India
12/04/2017
Visa, the global leader in payments technology, today launched their new brand campaign 'Reimagine India'. The campaign captures the spirit of the new Indian who is progressive, boundary-pushing and wants to be unbound from anything that slows him/her down. As more and more people are becoming a part of this 'unbound revolution', Visa's new brand campaign for India reflects the essence of this change. As the New Digital India is progressing into the future, Visa is making payments and lives simpler, by reimagining the way India pays.
This campaign crafted by BBDO, is based on the platform for Visa in India- "YOU REIMAGINE INDIA. WE REIMAGINE PAYMENTS". The campaign is driven through a robust 360-degree approach that spans TV, OOH, social and digital mediums.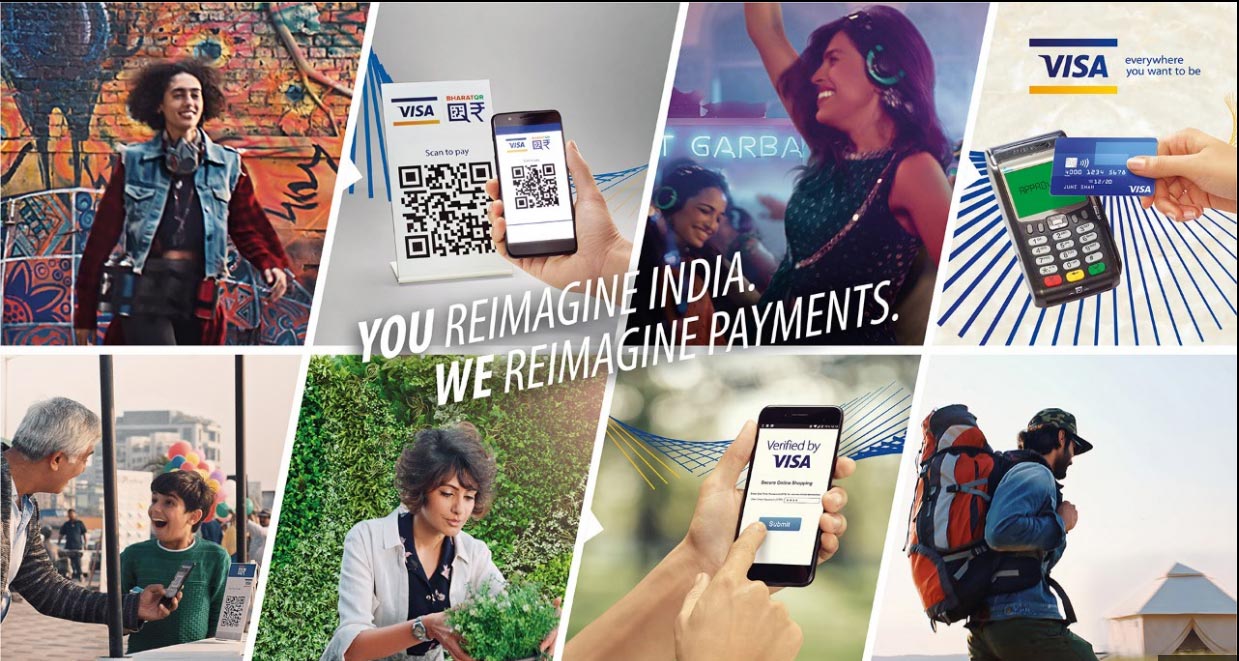 "In this New Age Digital India, consumers, especially millennials, do not recognise barriers and want to use technology to lead a friction-less life. As a brand, Visa is an enabler. It is an enabler of dreams, promises and aspirations as it seamlessly moulds into the unbound lives of progressive Indians and making them feel free, unencumbered and in total control by providing them reimagined payment experiences as they #ReimagineIndia." Manmeet Vohra, Head Marketing India and South Asia, Visa.
"Visa is creating a friction-less world of digital money so that people can go about their lives smoothly and without everyday payment interruptions. Our work dramatizes the brand's mission in the context of a new India that is re-imagining itself as it evolves and breaks from the past. The campaign is inspired by transformational stories of ageless progressive Indians today who are reimagining every aspect of life. Visa, embodies this 'unbound' spirit that's leading today's India Reimagined. So, while you reimagine India, Visa continues to reimagine payments." Josy Paul, Chairman and Chief Creative Office, BBDO India.
The #ReimagineIndia multi-payment form factor thematic communication is an inspiring montage of six situations that showcase the way ageless progressive Indians are now redefining their life space and re-imagining 'their India' in their own unique ways. Each of these six individual situations also integrate, in the narrative, the way Visa is helping Indians meet their aspirations by giving them unbound, unencumbered payment experiences. From transforming public spaces to a beautiful canvas that tells a story, from reclaiming streets for citizens, to bringing nature closer through urban gardening for a greener environment and celebrating festivals more consciously without the noise, their unbound spirit is reimagining India in a myriad of ways. Visa, embodies this 'unbound' spirit that's leading today's Reimagined India.
View Campaign
About Visa
Visa Inc. (NYSE: V) is the world's leader in digital payments. Our mission is to connect the world through the most innovative, reliable and secure payment network - enabling individuals, businesses and economies to thrive. Our advanced global processing network, VisaNet, provides secure and reliable payments around the world, and is capable of handling more than 65,000 transaction messages a second. The company's relentless focus on innovation is a catalyst for the rapid growth of connected commerce on any device, and a driving force behind the dream of a cashless future for everyone, everywhere. As the world moves from analog to digital, Visa is applying our brand, products, people, network and scale to reshape the future of commerce. For more information, visit usa.visa.com/aboutvisa, visacorporate.tumblr.com and @VisaNews.