Visa Signs Vicky Kaushal as Brand Ambassador with New Campaign 'Pay Safe with Visa'
04/01/2023
The campaign showcases through Vicky Kaushal how safe one's payments are when paying in stores or online in three different situations.
Visa (NYSE: V), the global leader in digital payments, announced the launch of its new campaign 'Pay Safe with Visa' in India today. The campaign is aimed at highlighting the safety and convenience of card payments in everyday usage. Bollywood star and actor Vicky Kaushal will be the face of this campaign, which features three films of 30 seconds each, the first of which has been released today.
The films showcase multiple scenarios where using Visa is equivalent to safe digital payments. One can tap to pay at a POS terminal with a smartphone or Visa card, or pay online with their secured Visa card credentials. The campaign aims to demonstrate that payments through Visa are an ideal option for consumers to pay for any purchase due to layers of security, innovations like tokenisation and seamless payment experiences.
"Visa has been a trusted brand in digital payments for decades and card payments have withstood the test of time. Our 'Pay Safe with Visa' campaign highlights this inherent benefit of card payments and our commitment to safe payments, always. We are delighted to have Vicky Kaushal representing the brand, and through this campaign, demonstrating the peace of mind consumers can experience when they pay safely with their Visa cards", said Sujatha V. Kumar, Head – Marketing, India and South Asia, Visa.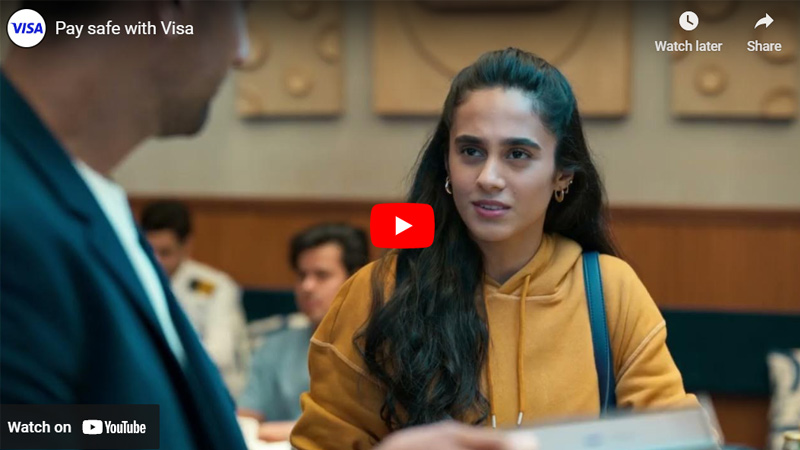 Vicky Kaushal said, "I am thrilled to be associated with Visa and the 'Pay Safe with Visa' campaign. As someone who values the safety of digital payments, I am excited to showcase how Visa's innovative and secure payment options can offer peace of mind to consumers. I hope that through this campaign, more people feel confident to use their Visa cards for safe and seamless transactions."
The use of everyday scenarios that mirror authentic, real-life experiences in the three films, designed by Leo Burnett and directed by Shekhar Kamble, Director, DreamPunk, highlights the various features of card payments and the underlying security features that make them safe, comfortable and stress-free for everyone.
Commenting on the campaign, Sachin Kamble, National Creative Director, Leo Burnett India said, "Safety has been the primary concern for all payments. Our 3 film campaign features Vicky Kaushal and draws an analogy between the safety measures undertaken to safeguard one's personal belongings with the safety assurance that one experiences when using Visa cards for payments. Each film reiterates, through everyday relatable situations, how Visa extends the utmost importance and care for the safety of your card transactions."
'Pay Safe with Visa' is Visa's second campaign following the launch of its brand repositioning, Cashless Confidence being the previous campaign. It will be available and showcased on OTT, digital media and the YouTube, Instagram, Facebook and Twitter channels of Visa.